Copyright
©
Thomas Fetter
2014-2016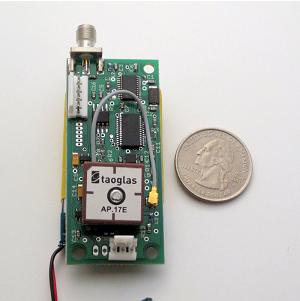 BigRedBee Beeline GPS


I use the Beeline GPS from BigRedBee
to track the location of my rockets. The Beeline contains a GPS receiver and an RF transmitter. The Beeline transmits the GPS coordinates and GPS altitude in realtime, as well as saving that data to onboard memory for later download. See the Flight Data Analysis page to see what can be done with this data.

I use the version of the Beeline that transmits in the 70cm (420-450 MHz) amateur radio band.

The realtime data transmission can be received and decoded by a HAM receiver that has a built in GPRS packet decoder along with a GPS receiver with a NMEA input. I use a Kenwood TH-D7e handheld receiver along with a Garmin 60CS GPD receiver (both older models). The decoded GPS packets can be patched from the Kenwood's NMEA output connector to the Garmin's NMEA input connector, and the Garmin puts a realtime waypoint on the rocket's location. By using the Find function on the Garmin, you can see both the distance and direction to the rocket. The Beeline transmission is lost once the rocket reaches the ground, but the last waypoint while the rocket was still in the air remains on the Garmin's display. This makes finding the rocket very easy when it lands out of sight.

The 70cm transmitter requires a HAM radio Technician (basic) level license to operate. The license is granted by the American
Radio Relay League (ARRL). Some studying and a test is required to be granted the license, but it is not too hard to get, and well worth while in the end.

The 70cm Beeline GPS is offered in a 16 mW and 100 mW versions. I use both and both are shown here.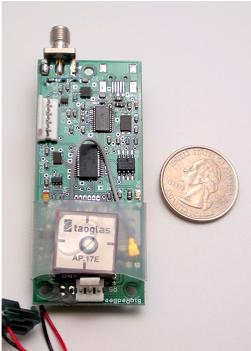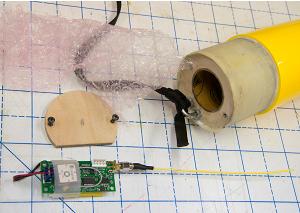 I mount the Beeline GPS in the nosecone, wrapping it securely in anti-static (pink) bubble wrap. This makes it easy to move from one rocket to another, since the Beeline is self-contained and does not need to be hard-wired into the rocket. I make sure it is a tight slip fit so that the Beeline does not slide freely inside the nosecone. I make sure that I have padding behind the unit between it and the bulk-plate closure. The nosecone experiences a very high acceleration from the ejection charge. I learned my lesson once when I did not have enough padding behind the beeline. At ejection, the board slammed against the bulk-plate and sheared the backup battery of the board. The board was repairable, but lesson learned.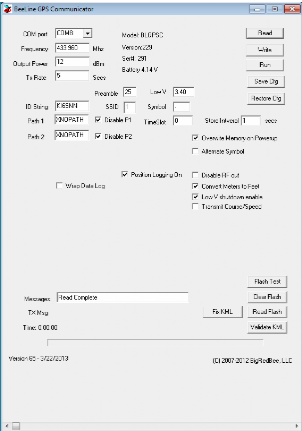 This is the Beeline GPS Communicator software. It is used to program the Beeline GPS and download the flight data from onboard memory.